Extension services and Social Responsibilities
Luna Colleges and PSU Sta. Maria Campus training-workshop on rice production technologies. Toketec, Tayug, Pangasinan
March 22, 2022
The Luna Colleges and PSU Sta. Maria Campus represented by Dr. Oliver C. Caasi (Center Head, Integrated Agriculture R&D Center), Prof. Ronel Ali Omolida (IGP Coordinator), Mr. Mark Argyll Tambaoan (Faculty, College of Agriculture) provided an orientation to the farmers on the series of training-workshop on rice production technologies to be conducted to improve the yield and income of rice farmers in Brgy. Toketec, Tayug, Pangasinan.
Prof. Ronel Ali Omolida presented the Organic Rice Production POT and Soil Sampling that will be implemented in the community while Mr. Mark Argyll Tambaoan discussed the IPM principles. The project is going to be supported by UNESCO to be funded by countries such as Japan, South Korea, and Germany. This partnership, initiated by the Luna Colleges, will tap the crop experts of PSU Sta. Maria.
Igniting the wheel of innovation that will revive the salt production in the country and transform...
PSU inks MOA with Pangasinan Organic Farmers Associations
Pangasinan State University through the Research, Extension and Innovation Division signed a Memorandum of Agreement with seven Organic Farmers' Associations in Pangasinan to promote Moringa production in the province last April 22, 2021 at PSU-Sta. Maria Campus.
Participating Organic Farmers' Associations will be the beneficiaries of the Php 4M PSU Massive Malunggay Seedling Production Program funded by the Department of Agriculture – Regional Field Office 1 and in partnership with the Moringaling Philippines Foundation, Inc.
Prior to the MOA signing, the PSU Research, Extension and Innovation team journeyed around the province, climbing hilly terrains and crossing rushing rivers in search of areas suited for Moringa production. The beneficiaries were selected based on their capacity to implement the program.
Funds for the program were allocated from the Agriculture Stimulus Package of RA 11494 or the "Bayanihan to Recover as One Act" (Bayanihan II). PSU is one of the eight SUCs in the country to be awarded with the R&D grant.
The event was graced by the presidents of the participating farmers' associations together with the selected University Officials. Dr. Dexter R. Buted , University President was ably represented by the Vice President for Research, Extension and Innovation, Dr. Paulo V. Cenas and his team.
The indomitable Filipino spirit coupled with compassion for the needy was once again manifested as...
The PSU community is overjoyed by the generosity and support of patrons whose hearts are big...
Grounded in its four-fold functions, PSU through extension and research programs, inked the MOU as...
"Sama-sama sa Pag-ahon at Pagsulong" as PSU's 42nd Founding Anniversary celebration theme,...
A Rapid Rural Appraisal or Participatory Rural Appraisal activity was done in Day 1 to determine...
Forging stronger linkages, Pangasinan State University-Lingayen Campus signed a Memorandum of...
The PSU Community Pantry is not just a stall containing fresh produce and other food, but a...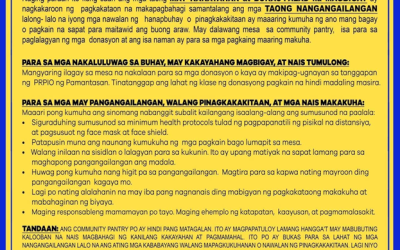 The Golden Lion Pantry was initiated last April 19, 2021 to be able to share to the needy members...
PSU - Open University Systems kicks off its 25th Silver Founding Anniversary Celebration through...
PSU supports the centuries-old Salasa Parish Church community through its Adopt-A-Church...
Gender And Development(GAD)
PSU-GAD honors WonderJuanas in 2022 NWMC
Celebrating womanhood and greater gender equality, the Pangasinan State University Gender and Development (GAD) unit spearheaded a culminating activity for National Women's Month on March 25 at the Dr. Telesforo N. Boquiren Convention Hall.
In collaboration with the National Service Training Program (NSTP) headed by Dr. Romary R. Lincod and the Students and Alumni Affairs Office headed by Prof. Celeste T. Mercado, the festive celebration and lined activities circled on Philippine Commission for Women's (PCW) 6-year (2016-2022) theme, 'We Make Change Work for Women.'
VP for Research, Extension, and Innovation, Dr. Paulo V. Cenas, GAD Director, Dr. Gilbert P. Moralista, and NSTP Director, Dr. Romary R. Lincod led the event, which was participated by PSU-SC's GAD Coordinator, Dr. Janelle D. Rosal, Univesity officials, and the PSUnian community.
"PSU has always upheld women's rights and acknowledged them as agents of change. The program also highlights the gains and achievements of women as the country works towards the achievement of gender equality and women empowerment," Dr. Moralista underscored.
Among the guests invited were prominent figures in the province and staunch advocates of women's empowerment, including former GMA 7 anchor and recently appointed JCI-Dagupan President, Hon. Charisse Mae C. Victorio with Urdaneta City's pride creative director, Ms. Glademir Echavarre.
2022 NWMC culminated through a rich showcase of talents and prowess through a cosplay competition featuring remarkable women in Philippine history, a musical composition and rendition contest, and the highlight of the event, Search for Miss GAD Advocate.
"Let us work for a stronger world and a better future for all with equal rights for men and women and inter-sex," a solid quotation uttered by Dr. Romary Lincod as she gave her closing remarks.
PSU through its GAD and NSTP remains a stalwart institution in advancing women empowerment reflected in its successive university-wide activities, creating platforms for active virtual and facilitated discussions of relevant issues concerning gaps and issues among women in society.
PSU stands firm in its advocacy in continuously empowering women as prime movers of sustainable and responsive development, and as builders of a society where gender equality permeates as a shared value and not a means of tolerance.
Pangasinan State University Divisions and Units, in partnership with the Philippine Commission on...
Celebrating womanhood and greater gender equality, the Pangasinan State University Gender and...
The Pangasinan State University - Gender and Development Unit invites you to attend the...
NSTP, NatSci units 'go green' with tree-planting
To take action "For our Future: Plant, Grow, Repeat," the Pangasinan State University's National Service Training Program (NSTP) unit partnered with Natural Science Department pioneered the tree-planting project on June 15, 2022, in Barangay Capandanan, Lingayen.
Grounded on PSU's core values of "Social and Environmental Responsiveness," the project engaged NSTP, Nat. Sci. Dep't faculty members and first-year BS Biology students led to successfully planting a total of 600 bakawan (mangrove) propagules that will entirely benefit not only the community but essentially the ecosystem, both marine-coastal and terrestrial habitats and ecosystems in a myriad of ways.
In the conservationist's lens, as a 'blue carbon' ecosystem, mangrove forests together with saltwater marshlands, and seagrass meadows are extremely effective (up to 100 times faster and more permanently than terrestrial forests) at storing atmospheric carbon, thereby mitigating climate change according to Fortes & Salmo (2014) based on the United Nations Environment Programme (UNEP) and International Union for Conservation of Nature (IUCN) reports.
The project's initiatives mounted the students' robust support over the "Let the Earth Breathe" campaign, a global call to raise awareness of the looming catastrophic repercussions of the climate crisis.
"It was my first-time planting mangrove propagules; quite difficult but I enjoyed it. The activity served as a reminder of the importance of trees in our daily life, and protecting coastal and marine ecosystems is equally significant as the ocean covers 71% of the earth's surface, providing food and oxygen, both necessities for survival," Emlene Mae Dela Cruz, first-year Biology student shared.
This goes arm in arm with the penultimate goal of sustaining the strategy by promoting environmental responsiveness, setting a platform for other units and organizations to follow, thus, starting a movement toward environmental protection and conservation.
"…it hopes to create an impact, start a movement, and let everyone, especially our peers, that with action, volunteerism, and teamwork, a future where everyone can breathe fresh and clean air is in our grasp; the world needs our help more than ever," said in the project's statement.
One with Earth, PSU holds strongly to its values of environmental responsiveness as manifested in its institutional strategic programs lined with partnerships with government and non-government organizations in taking sustainable actions to preserve nature and secure next generations' future of a habitable planet.
NSTP, NatSci units 'go green' with tree-planting To take action "For our Future: Plant, Grow,...
ENDING WITH A SMILE After weeks of delay, the Supreme Student Council of the Pangasinan State...
"The best time to plant a tree was 20 years ago. The second best time is now." As part of the...
technology transfer and other mechanism
PSU, DOST, 2 LGUs MOA Signing
As a paragon in community development, Pangasinan State University sealed a Memorandum of Agreement (MOA) with the Department of Science and Technology (DOST), LGUs of Agno and Bautista, Pangasinan via video conferencing, today, June 21.
The project entitled "Engaging Local Communities with Science, Technology, and Innovation for Development" aims to 'uplift the socio-economic condition of the people through the provision of appropriate S&T interventions.'
Universitry President, Dr. Dexter R. Buted lauded all parties involved especially the Research, Extension, and Innovation unit headed by Dr. Paulo V. Cenas (VP for REI) for the unhampered efforts in empowering local communities through relevant programs as such, even with the present debacle.
Cognizant of the mantra for education for all, the Pangasinan State University embarked on a...
𝐇𝐄𝐀𝐃𝐒 𝐔𝐏, 𝐏𝐒𝐔𝐧𝐢𝐚𝐧𝐬! The Pangasinan State University, through its Extension Office, is spearheading...
The Pangasinan State University visited West Java, Indonesia in pursuit of unlocking more...